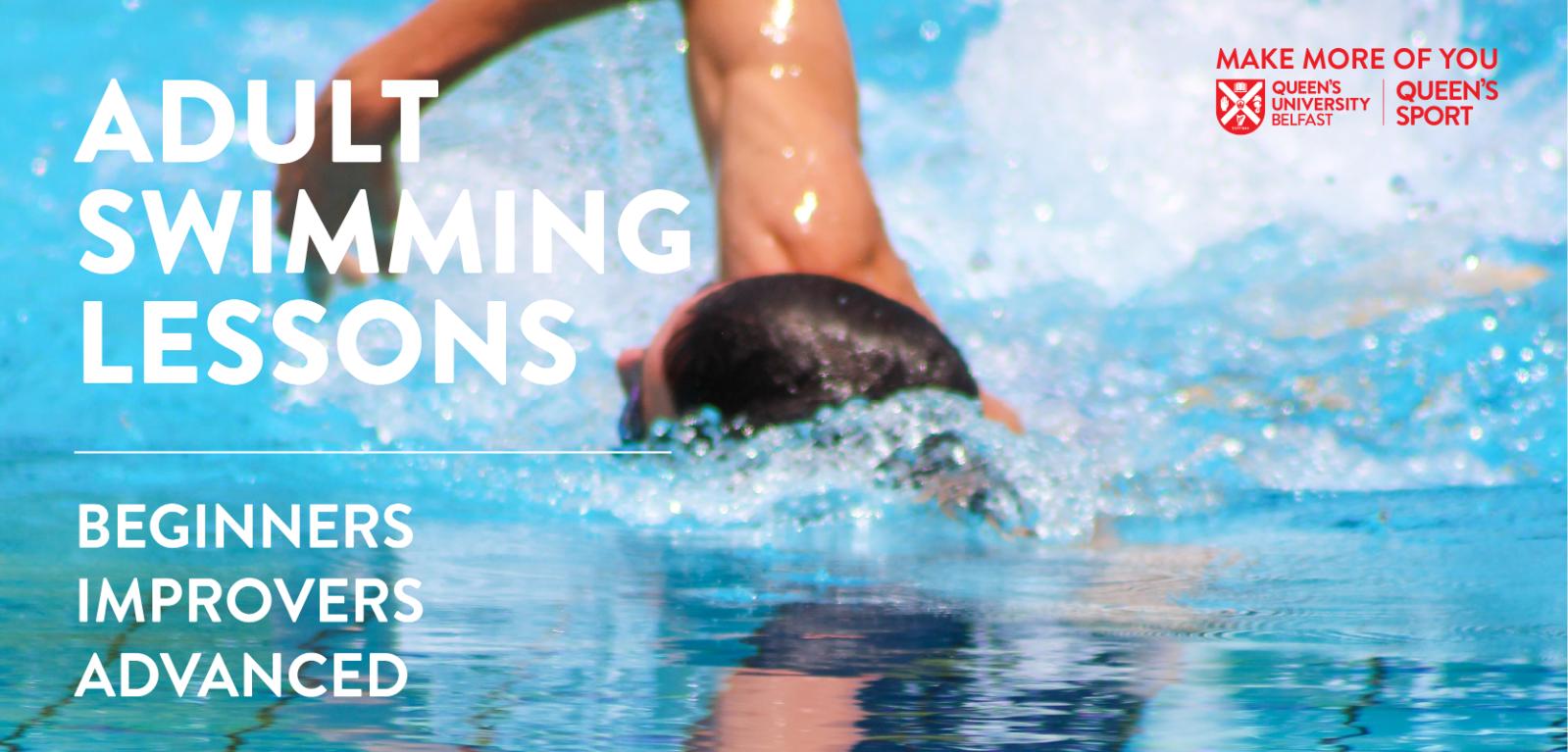 Queen's Sport are proud to continue the Adult Swimming Lessons into Winter 2023. Whether you are just starting out, want to improve your stoke or develop your technical proficiency in water. We have a level for you.
Adult swimming provides a developmental programme leading from Beginners to Advanced, covering basic fundamentals to developing technical proficiency in water. (Courses commence Wednesday 11th January 2023 for 12 weeks. £78 for member /£114 for non-members)
Adult Beginners is a tailored course for first time novice swimmers. The objective of this course is to help adults to become more comfortable in the water. They will learn to enter the water, breath control and self-buoyancy. As confidence builds, they will learn the correct body position, kicking, travelling through water and all the elementary strokes.
Adult Intermediate focuses on stroke development and with greater confidence in the water the strokes that are learned in the beginner's course are further developed. Adults are completely independent at this level, treading water and recovery to a swimming position is mastered and basic turns will be introduced.
Adult Advanced focuses on improving technique in all strokes. You will work on your technique, stamina and all-round fitness in the water through a guided and safe environment.
Adult Swimming Lessons Winter 2023
Key Information
Starts Wednesday 11th January
End Date Wednesday 29th March
12 weeks
7.45pm - 8.15pm (Beginners & Intermediate) 8.15pm - 8.45pm (Beginners & Advanced)
£78 members / £114 non-members
Enrolment opens - Thursday 08th December 2022
As per the terms of the Queen's Sport health declaration, all bookers must advise of any medical or health issues in advance of the course. If you have any of the following medical or health issues (heart condition, recent chest pains brought on by exercise, spells of dizziness, are on medication for high blood pressure, have bone or joint issues, shortness of breath, are currently or recently pregnant, or have undergone any recent surgery) you must download and complete this PARQ in full and return to courseenquiries@qub.ac.uk
By continuing to your booking you agree to the above terms and the QS Health Declaration found here.
When booking please select the first date of the course on the booking calendar.
Non-members - to receive your login details and save over £30 per course join today... you can also register as a course non-member and then book your course online.