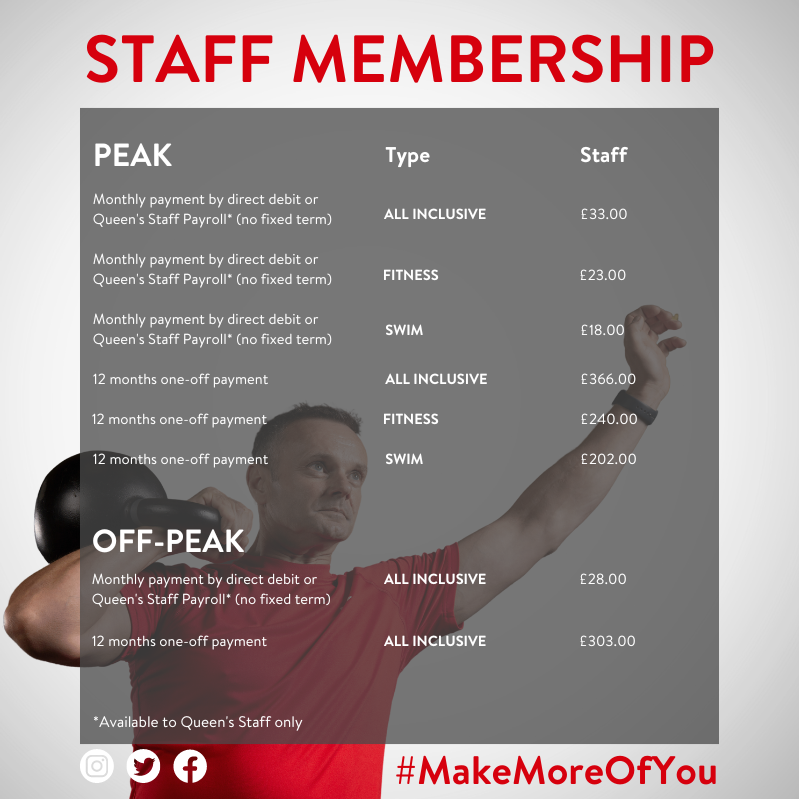 Queen's Staff
Membership includes ...
Discover our All-Inclusive, Fitness and Swim Options! More details can be found at the bottom of this page. As an all- inclusive member, you can book a complimentary Fitness Orientation with our Gym staff.
If you prefer off-peak hours, we offer memberships allowing entry from Monday to Thursday (06:30 - 15:30), and unlimited access from Friday to Sunday.
Select your preferred payment method from the options available: annual or monthly payments. Monthly Salary Deduction payments (no administrative fee) completed at PEC Reception only or monthly Direct Debit available online. Please note that a £20.00 joining fee is applicable for staff setting up a Direct Debit (no fixed term).
Please note that cancellations require a notice period of one calendar month. For Membership upgrades or downgrades, you can make your request either at the Reception or by emailing memberships@qub.ac.uk.
Please read our full terms and conditions here
PERKS OF BEING A QUEEN'S SPORT MEMBER
• FREE Queen's Sport App: Stay connected and make the most of your membership with our convenient mobile app.
• Online Bookings: Easily reserve your spot in classes, activities, and facilities through our user-friendly online booking system.
• Complimentary parking facilities exclusively available to our members for up to 3 hours.
• Special Associate Rates: Take advantage of discounted rates for associates of Queen's Sport members.
• Flexible Membership: No long-term contract required for salary Deduction or Direct Debit memberships. Enjoy the freedom to cancel with just one calendar month's notice.
• Take advantage of special rates for courses, children's courses, 5-aside bookings and physiotherapy services via Kingsbridge Healthcare.