New Car Parking at the PEC (FAQ's)
New Car Parking at the PEC will be introduced later this month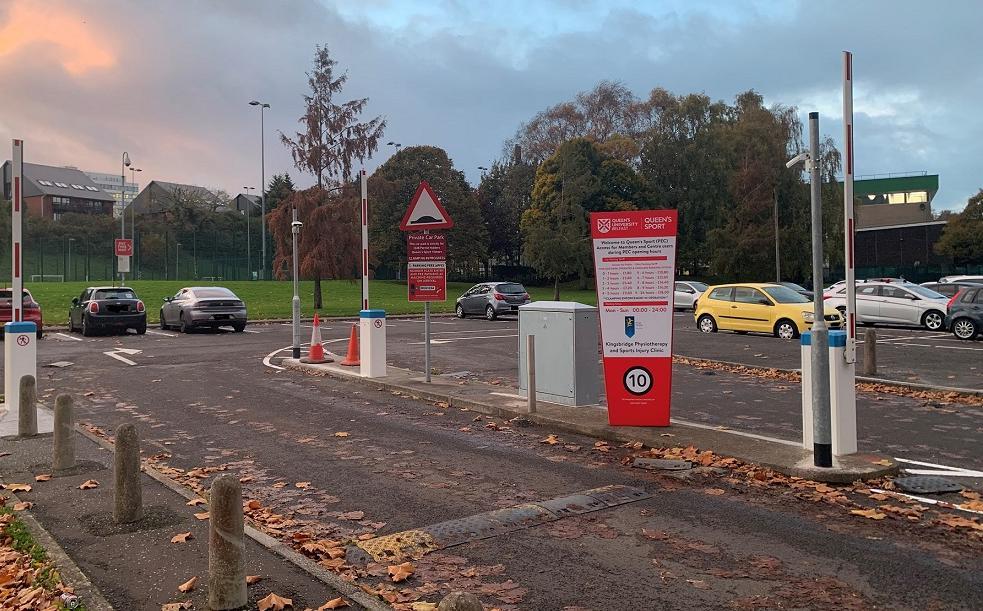 In order to address the ongoing unauthorised parking at the PEC, the University will be introducing a new parking system at the Stranmillis embankment car park. The new system will be effective from Monday 27 November 2023.
The system is based on vehicle registration whereby your car's registration plate will be scanned when you enter the car park and then again when you leave. Queen's Sport members and facility users will be given 3hrs complimentary parking each day which you need to register for before starting your activity. Queen's Sport members are encouraged to register their vehicle in order to make future visits more seamless.
To help you with the registration process we have created a step by step guide for you to follow - Car Park Registration Guide as well as a short Video Guide

To help you understand how the new system will work we have also compiled a series of FAQ's (see below)
Q 1. When will the new car parking system be introduced?
A - It is anticipated that the new system will 'Go Live' November 27

Q 2. Will Queen's Sport members be charged for using the Stranmillis embankment car park?
A - The new system will allow all Queen's Sport members that are using the PEC free parking up to a period of 3 hours each day. A fee of £1.80 will then apply for each hour (or part of each hour) after this period.
Q 3. Can the 3 hours be used throughout the day?
A - Members can register their car number plate at stations located within the Queen's Sport reception gates. There you will be prompted to record your number plate and select how long you plan to stay, if, for example you choose 1.5hrs you can come back later in the day to use the remainder of your 3hrs free parking.
Please note if you do not select a time the system will assume you have stayed for 3hrs. If you intend to come back to the PEC on the same day the system will begin to apply parking rates as detailed in Q2.

Q 4. I am not a member of Queen's Sport but I do attend student club training and 5-aside bookings, do I also get 3hrs free parking?
A - If you are not a member but are attending any activity at the PEC including spectating you can also avail of 3hrs free parking by registering your car number plate at the stations located within the Queen's Sport reception gates (at the climbing wall).

Q 5. Will there be free parking at the weekend similar to other University parking sites?
A - No the new parking tariffs will apply each hour of each day including weekends.

Q 6. If I am dropping someone off at the PEC do I need to register my car ?

A - There is a drop - off period of 15mins where no fees will apply. After this normal parking fees will apply.
Q 7. If I do not register my vehicle and do not pay will I be able to leave the PEC car park?
A - If you fail to register your vehicle and are using the PEC car park, you will be able to leave the car park however enforced vehicle clamping may apply.
Q 8. I have registered my car registration and payment method. A £1 cost has been applied automatically - what is this for?
A - Some banks may perform a check and apply a £1 fee which will be returned within a few days.