McQuillan Companies unveil 3-year partnership with Queen's University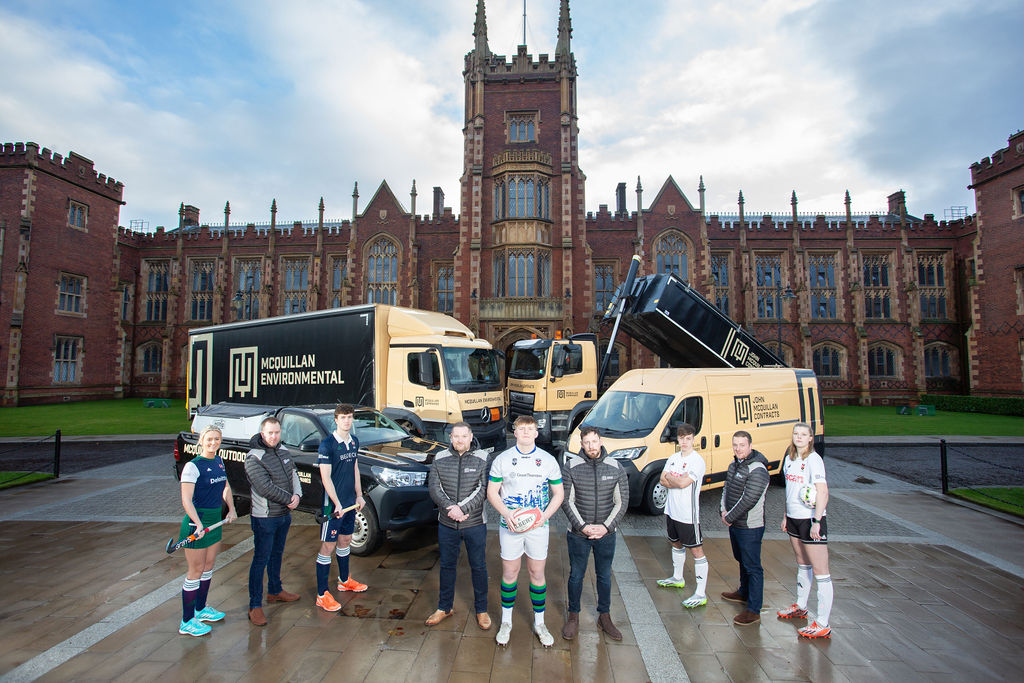 Left to right:
Alyssa Jeb - Queen's Ladies Hockey,
Ronan McQuillan,
Conor Irwin - Queen's Mens Hockey,
John

McQuillan,
Jack Boal - QUB RFC,
Stephen

McQuillan,
Jack Oven QUBAFC -
Niall

McQuillan ,
Annika Haug - QUBAFC
Lisburn based McQuillan Companies unveil 3-year partnership with Queen's University to further advance supporting education and sport.
Leading Construction and Waste Management business, McQuillan Companies, has this week announced a sponsorship with Queen's University as part of its focus on developing excellence in industry, through education and sport.
The partnership aims to create a platform for student-athletes to excel both on and off the field, reinforcing the values of teamwork, discipline, and sportsmanship, and enabling sport as an outlet for students away from studies to invest in their wellbeing across rugby, soccer and hockey. The Queen's University Rugby, Hockey and Soccer clubs have a rich history of success and have produced numerous accomplished athletes over the years. The support from McQuillan Companies will further enable the University teams to access resources required to reach even greater heights in their respective sports.
Commenting on the partnership John McQuillan, Director at McQuillan Companies, said; "We are excited to embark on this journey with Queen's Sport to support their talented student-athletes in their pursuit of excellence both on and off the pitch. The importance of sport within education is widely acknowledged, and as a large family business we see this partnership as an affirmation of our commitment to learning excellence, and as a company helping nurture and support the next generation of professionals. We have members of staff who have represented the university as well as many more who have watched from the sidelines across many sports as family and friends, so we fully understand the need for activities to balance out learning and life. Sponsoring these activities further reflects our shared commitment to fostering growth, leadership, and community engagement, and we are excited to see how this Priority Sports Associate Partnership impacts on the athletes, the university, and our communities."
Welcoming the partnership, Karl Oakes, Head of Sport and Physical Wellbeing added; "We are delighted to have McQuillan Companies on board as Priority Sports Associate Sponsors to a variety of sporting activities provided by the University. This 3-year partnership is important in providing our student-athletes with the tools and opportunities they need to compete at the highest level in sports here at the University, whilst at the same time helping them excel academically."
This sponsorship is a testament to McQuillan Companies dedication to community involvement and its belief in the power of sports to inspire and drive positive change. By supporting these three prominent sports programmes at Queen's University, McQuillan Companies aims to contribute to the overall development and success of student-athletes in their academic and athletic pursuits.
As part of the partnership, McQuillan Companies will feature as a sponsor on all team jerseys across eight teams and on advertising hoardings on the Main Arena Pitch at Upper Malone as well as the Queen's Soccer pitch at Upper Malone.
About McQuillan Companies.
McQuillan Companies was established over 125 years as a family business based in Northern Ireland. The company, which employs over 200 people across its main services incorporate a diverse range of activities including civil engineering, road surfacing and maintenance, demolition, quarrying, hazardous and non-hazardous waste management, outdoor cleaning services and analytical chemistry. Working across public and private sector, these services are provided across Ireland and Scotland through John McQuillan Contracts, McQuillan Quarries, McQuillan Environmental and McQuillan Outdoor.
For more information about McQuillan Companies, please visit www.mcquillancompanies.com.