Two Queen's GAA Webinars discuss Rule 27...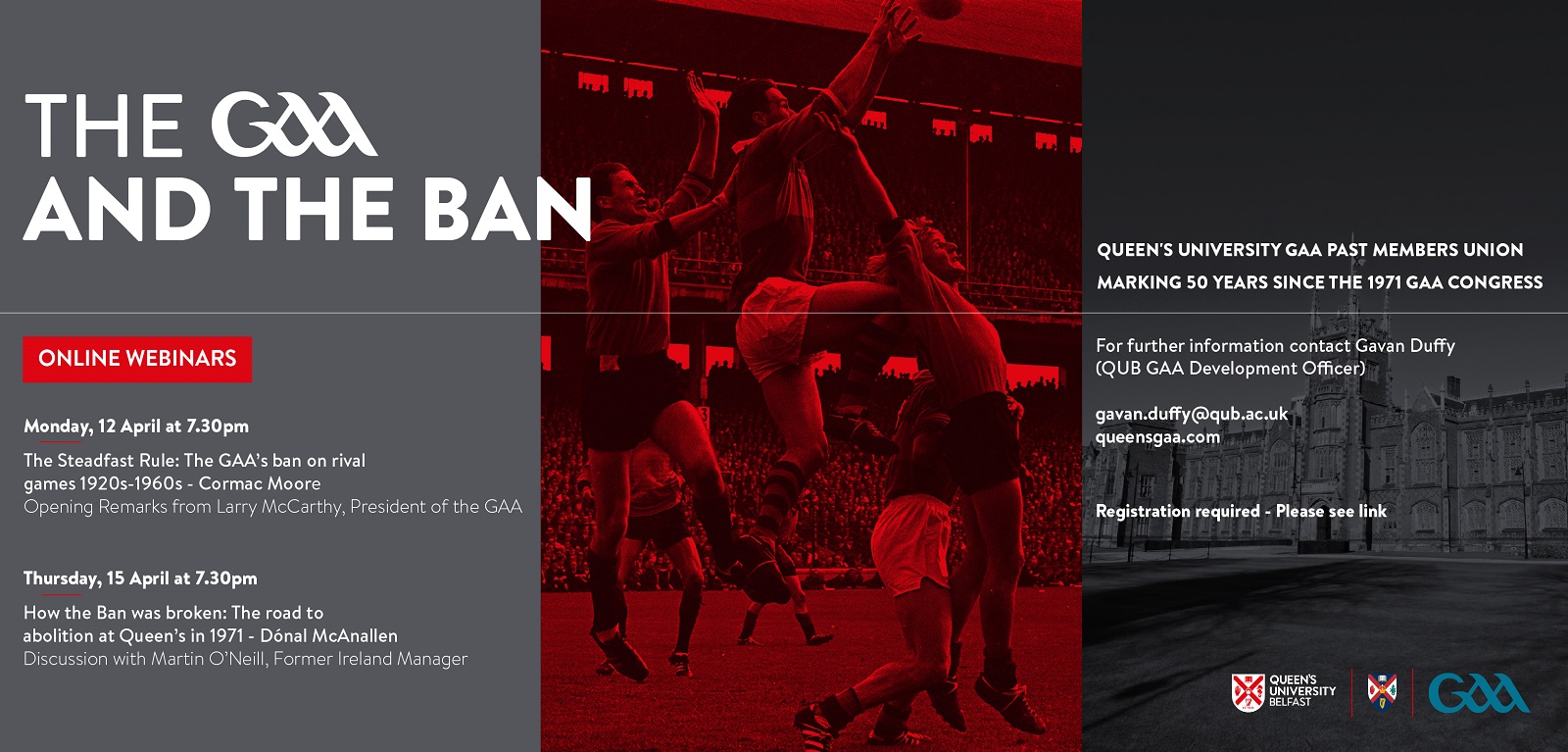 The most controversial rule in Irish sporting history was removed by the GAA 50 years ago at a momentous Congress in Belfast. The abolition of the infamous Ban on rival games was a significant decision for the GAA and sport in Ireland, and now Queen's University (the host venue for the 1971 Congress) will host two online webinars to reflect on Rule 27, its impact and legacy.
The 1971 GAA Congress took place at the university's Whitla Hall on 10th and 11th April. It was the first time that GAA Congress had been held in Ulster, and the abolition of the Ban was a decision that was set against the backdrop of a changing Ireland and a troubled north.
The online webinars, which will be hosted by Queen's GAA Past Members Union, will explore the history of the Ban, some personal experiences, the move towards its removal, and how the GAA changed.
Monday, 12 April 2021 at 7.30pm
The Steadfast Rule: The GAA's ban on rival games 1920s-1960s
Talk will be delivered by Cormac Moore, historian and author of 'The GAA v Douglas Hyde:The Removal of Ireland's First President as GAA Patron' and 'The Birth of the Border'.
Opening remarks from the special guest Larry McCarthy, the new President of the GAA.
Thursday, 15 April 2021 at 7.30pm
How the Ban was broken: The road to abolition at Queen's in 1971
The talk will be delivered by the historian and author Dónal McAnallen, whose works include 'The Pursuit of Perfection: The Life, Death and Legacy of Cormac McAnallen' and 'The Cups That Cheered: A History of the Sigerson, Fitzgibbon and Higher Education Gaelic Games'.
We will also have a discussion with former international player and manager Martin O'Neill. An honorary graduate of Queen's University, he won two European Cups with Nottingham Forest and captained Northern Ireland at the 1982 World Cup, before turning to management with the likes of Leicester, Celtic, Aston Villa and the Republic of Ireland. The discussion will focus on his experience of the Ban and the controversy surrounding the MacRory Cup schools semi-final in 1971.
You can register for one or both events by logging onto this link...
https://forms.office.com/r/BzE0wKS1gN
For further details, contact Gavan Duffy (QUB GAA Development Officer) at gavan.duffy@qub.ac.uk or John Devaney at jackdevaney@yahoo.co.uk