Active Children's Programme - Places still available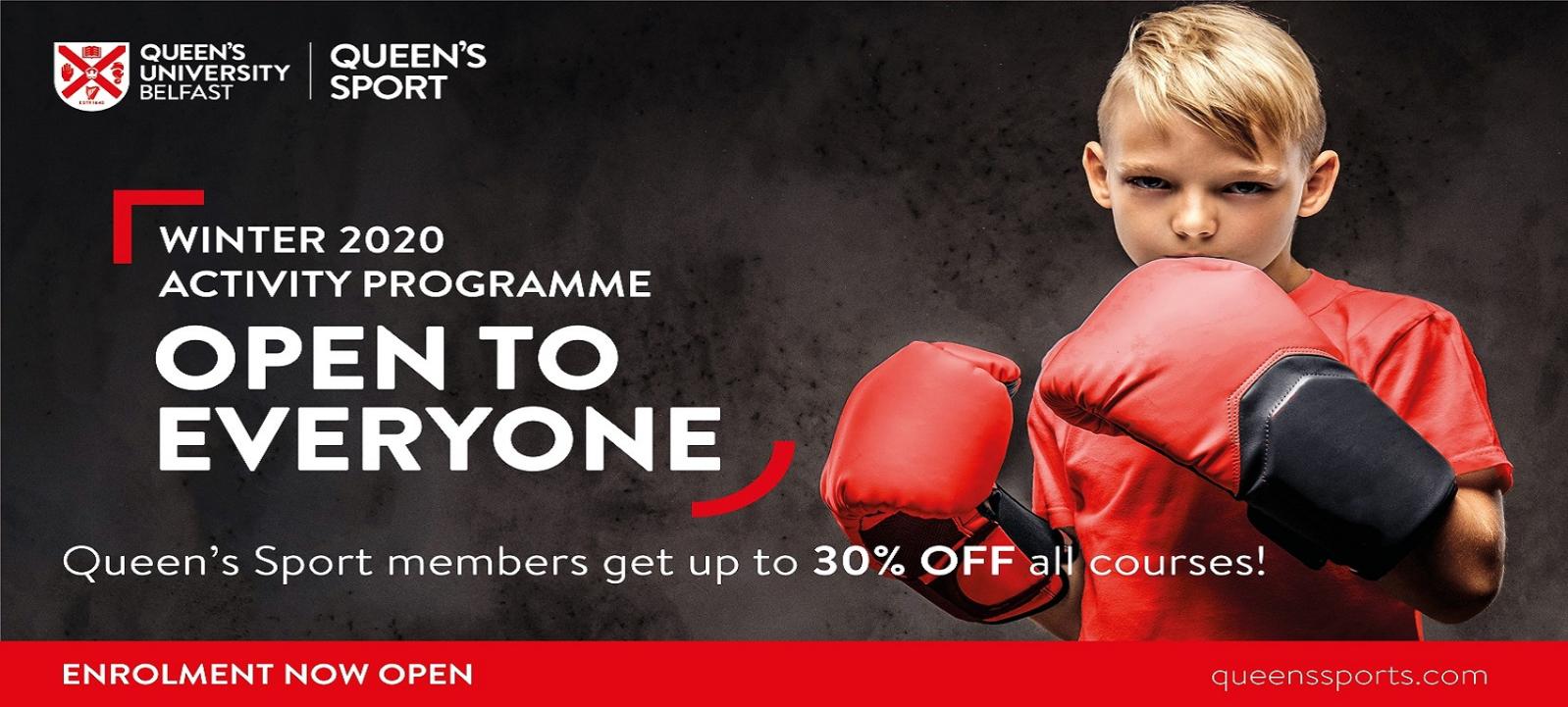 Would your child like to try something new like dance, martial arts or yoga?
Queen's Sport offer a wide range of courses that encourage an active and healthy lifestyle from a young age. Our winter children's activity programme is now open with spaces still available on the following courses:
Baby Dance (Monday 11am with Jo Britland) is for your toddler who just can't stop dancing when they hear the beat. Baby Dance will involve you and your little one dancing, learning and playing together. There is a structure to the class, but time for free movement too. Each week will dance to action songs and rhythmic songs and learn simple movements. There will also be a different theme each week, like jungle animals, weather, fairy stories and transport and many more. The fun is endless in this class. A parent/guardian participation is vital in this class.
Tiny Tots Hip Hop (Wednesday 3:30pm with Jade Rodgers) introduces your wee one to the world of Hip Hop dance. Using creative play, games and our super cool dance moves, the dancer will learn the fundamentals of dance and movement while developing their confidence and creative skills. They will make lots of friends and have tons of fun along the way!
Kids Taekwondo Club (Thursday 5:30pm with Adam Young) is a Korean martial art and Olympic combat sport. It focuses mainly on strikes, mostly kicks but upper body striking also. It's name means the way of foot and fist and it is one of the most practiced martial arts in the world combining elements of fitness, flexibility, self defense and most importantly fun. There are no pre-requisites to joining our classes and beginners are always welcome!
Active Minds (Saturday 9:30am with Carolyn Blair) This six-week fun-filled body and brain workout will train young minds and bodies to achieve their potential through a mindfulness-based, innovative approach to exercise. The programme is divided into two complementary parts; 40 minutes body training and 20 minutes brain training. This bespoke training programme is designed to enable 6-12 year olds to develop their potential through increasing their fitness levels, feeling happier, calmer and more fulfilled, learning how to work with partners and in teams, developing skills of focus and concentration, building resilience to cope with stress and anxiety and.supporting performance in sport.
Childrens' Yoga (Saturday 12 noon with Elizabeth O'Hagan) will provide a safe space for children to connect authentically with themselves through physical postures, breathing techniques, mindfulness and relaxation. Developing strength, flexibility (in body and mind) as well as increasing confidence and improving social skills, this class is the ideal introduction for any budding yogis and yoginis.
KinderGym (Sunday 9:30am or 10:15am with Laura Luke/Lydia Colhoun) A small group course for pre-school age children and their parents. KinderGym aims to develop your child's balance, co-ordination, body control and flexibility. The ten week half-hour course will utilize basic gymnastics positions, movement and games – all in a fun and safe environment.
All relevant information to sign up online can be found here
Alternatively, you can speak to our reception staff at PEC reception, call on 02890681126 or email sport@qub.ac.uk