PEC Reopening Tuesday 14 July 2020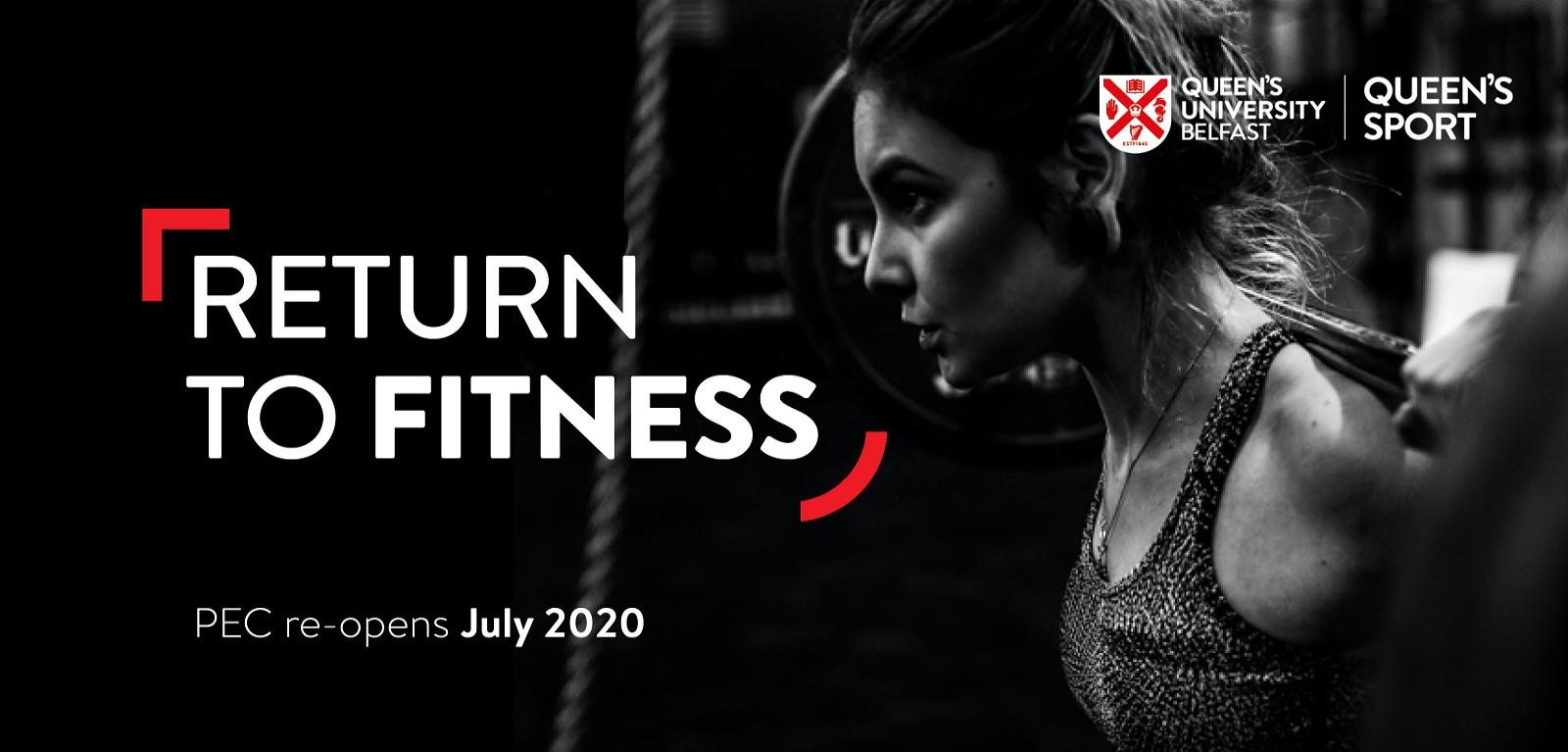 PEC REOPENING - TUESDAY 14 JULY 2020
Following the most recent
NI Executive guidelines,
we are pleased to announce that we will be re-opening our facilities at the PEC from
Tuesday 14 July 2020
. In line with the guidelines we will initially open our Gyms, Exercise Studios and outdoor 5-aside pitches, with the remaining facilities including our swimming pool opening in early August.Queen's Sport can now share how we plan to reopen our facilities and the measures that will be in place to ensure your safety, and that of our staff. 
Opening Hours -
Initially facilities at the PEC will be open on a reduced hours schedule - Mon - Fri 06:30 - 20:00 and Sat - Sun 09:00 - 16:00
Keeping Safe

All gym sessions and classes, must be pre-booked online via the Queen's Sport Website or by using the Queen's Sport App

this helps manage and record attendance for activities.

There are 2 bookable 'Gym Areas'; (1) Cardio and Functional Training areas on the first floor and (2) Strength & Conditioning Suite on the ground floor.

Initially only Spin classes will be on offer at the PEC with a full programme of classes in place from Monday 20 July.

Online classes and content will continue to be available to all Queen's Sport members.

Before making a booking, all members will be made aware of the Return To Fitness Guidelines

which you must adhere to during each visit.
Booking into the Gym & Class Sessions
We have relocated some gym equipment and class equipment to follow guidelines and ensure we have controlled access and egress throughout the PEC.

All sessions will be limited to 1 hour. The 1 hour slot will include the allowance for safe arrival, movement through the centre, and leaving the premises.

All members are advised to arrive changed for your activity where possible, as limited showering facilities will be available.

Sports Halls and outside areas will be used to complement our indoor programme and deliver safe class spaces.

Only members booked into a gym session or class will gain entry to the PEC.

To ensure social distancing, it will not be possible to move from one Gym Area to another or to a Class. Due to a high volume of gym and class 'no shows' you will only be permitted to book into one session per day. This will allow other members to avail of the gym also. This will be reviewed weekly.

Directional signage and staff will guide you throughout your visit.
Booking 5-aside
From 14 July there will only be outdoor 5 - aside available.

All bookings must go through an application process please contact pecbookings@qub.ac.uk for more information.
Staff will thoroughly clean all Gym and Class areas after each bookable session.

All staff will be fully trained on our new cleaning and safety measures to ensure these are delivered to the highest standard.

There will be Sanitising Stations in each area and we ask members to use them before and after each exercise. This includes wiping down exercise mats.

There will be hand gel readily available for use before you touch any equipment.

All customers should bring a clean towel with them and a yoga mat if preferable.

Drinking fountains will be out of use – so please bring your own water.

You must exercise social distancing at all times and respect other users.

A limited amount of toilets will be available on each floor.

All payments should be made online or by card at reception. There will be no cash payments accepted at reception.
Queen's Sport automatically froze all membership payments from March 18 2020.

We are currently reviewing membership fees based on facilities that are available. Members will be made aware of this review and the collection of future fees in the coming days.

Annual memberships will be extended by the number of months the PEC has been closed. This will be based on current subscription end dates.

If you are not ready to restart your membership yet then there is no need to cancel as you will be able to extend the freeze option until you are ready to return - please contact us at memberships@qub.ac.uk to request this option
Once all our facilities are available for bookings we will notify you.
We look forward to welcoming you back to the PEC.