Discover new experiences and make lifelong connections with our Active Campus programme which is open to Staff, Students and the Wider Community. Our extensive range of social, recreational, and physical activities ensures that you have a wide variety of enjoyable activities to choose from. Our aim extends beyond enhancing physical health, we're dedicated to nurturing your mental and emotional well-being. Queen's Sport and our Active Campus Sponsor VANRATH, are unwavering in our commitment to providing you with an exceptional student and staff experience during your time at Queen's. Our joint mission is to empower you to excel academically and flourish in your future career and we're enthusiastic about helping you seize every sport and recreational opportunity available through the VANRATH Active Lifestyle Programme.
Irrespective of your athletic prowess or fitness level, the Active Campus programme caters to all. Through our four strands of Active Campus; Active Fitness, Active Lifestyle and Active Clubs, there is something for everyone. Whether you're challenging yourself with Couch 2 5k or the Queen's Deep River Rock 5k or engaging in taster sessions hosted by our 62 sports clubs tailored for beginners, rest assured there's something that will resonate with you. Have a desire to experience dodgeball, yoga, social netball, or tag rugby? Our program is tailor-made to offer you a diverse range of exciting opportunities.
Join us on a journey of exploration and empowerment through the Active Campus Programmes.
VANRATH ACTIVE CAMPUS 2023/24
STUDENTS & STAFF ENCOURAGED TO GET ACTIVE
Make More of You through our range of programmes this semester...
#MakeMoreOfYou
Click HERE for a full description on our recreational Programmes.
Event/Programme

Date

Duration

Day

Time

Venue

Registration

Residential Assistant Training
31 August
1 hour
Thursday
13.00-14.00
Treehouse BT9
Residential Team Only
Active Campus Awareness Session for Staff
4 September
4 hours
Monday
10.00-14.00
One Elmwood
Drop In
Staff Football
12 September - 28 November
12 weeks
Tuesday
13.00-14.00

OTF

Queen's Sport

Register HERE
Campus Run
13 September
On going
Wednesday
13.15
Lanyon Building
Drop In

Sports Club Check In Day

(SU Clubs)

18 September
2 hours
Monday
18.00-20.00
BT1, BT2 & BT9 Accommodation

Drop In

(QUB Accommodation Students Only)

Staff Netball
19 September - 21 November
10 weeks
Tuesday
13.00-14.00

Minor Hall

Queen's Sport

Register HERE
Academy Sport Taster Day
20 September
4 hours
Wednesday
14.00-18.00
Queen's Sport Upper Malone
Student Wellbeing School Sports Day
21 September
2 hours
Thursday
14.00-16.00

Main/Minor Halls Queen's Sport

Register HERE
Fresher's Fair
26-28 September
3 days
Tues - Wednesday
9.00-17.00
Mandela Hall
Register HERE
Couch to 5K Programme Semester 1
26 September - 28 November
10 weeks
Tuesday
19.00
PEC
Register HERE
Staff Badminton
28 September - 30 November
10 weeks
Thursday
13.00-14.00
Minor Hall
Register HERE
11 a side league
4 October - 6 December
10 weeks
Wednesday
14.00-17.00
Upper Malone and BCC Pitches
Register HERE
American Football Taster Session
4 October -25 October
4 weeks
Wednesday
20.00-22.00
OTF
Register HERE

Intro to Campus Run

4 October – 6 December

10 weeks

Wednesday

1.15pm

Lanyon Building

LGBTQIA + Squash

(Ulster Squash)

5 October – 23 November

8 weeks

Thursday

7-9pm

Squash Courts 7+8

TBC

5 a side league Monday
9 October - 27 November
8 weeks
Monday
14.00-17.00
OTF
Register HERE
World Mental Health Day - Class Combo Session
10 October
1 hour
Tuesday
12.30-13.30
Main Hall
World Mental Health Day - Yoga Session
10 October
1 hour
Tuesday
18.00-19.00
The Great Hall
Register HERE
Hope Walk for Papyrus
11 October
3 hours
Wednesday
16.30-19.30
One Elmwood
TBC
5 a side league Wednesday
11 October - 29 November
8 weeks
Wednesday
14.00-17.00
OTF
Register HERE
Social Futsal
11 October - 29 November
8 weeks
Wednesday
14.30-15.30
Main Hall
Register HERE
Social Basketball Programme
16 October - 20 November
6 week
Monday
14.00-16.00
Main Hall
Register HERE
International GAA
24 October - 28 November
6 weeks
Tuesday
14.00-15.00
OTF
Register HERE
Halloween Dodgeball
26 October
4 hours
Thursday
12.00-16.30
Main Hall
Register HERE
3 v 3 Basketball Tournament
27 November
4 hours
Monday
12.00-16.00
Main Hall
Register HERE
Santa Run
5 December
2 hours
Tuesday
19.00
PEC
Drop In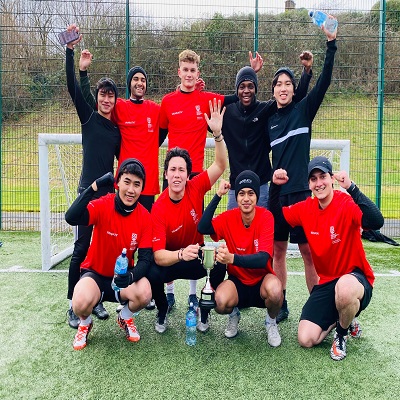 Image Gallery (837391)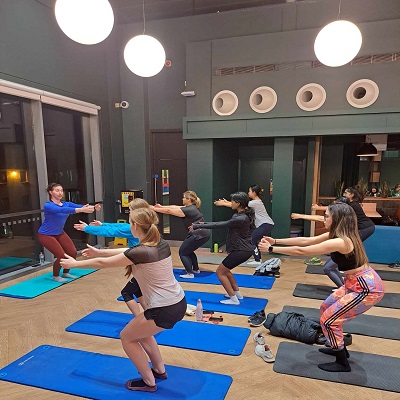 Image Gallery (837403)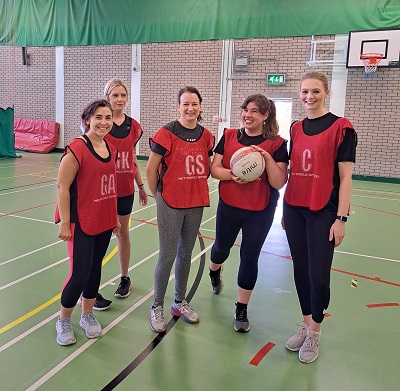 Image Gallery (837414)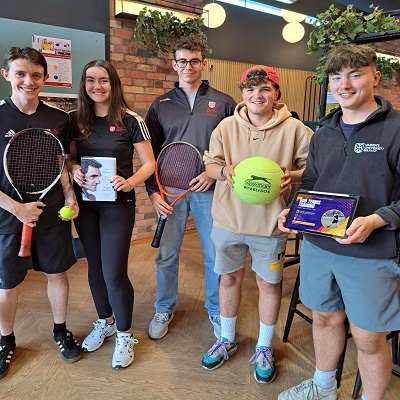 Image Gallery (837424)
Teresa Reid - Vanrath Active Campus Development Officer
Aidan McGlynn - Vanrath Participation Sport Assistant